Posted by Shari on September 24th, 2023
Diagonal Joy Quilt Sew-Along: INTRO

Yahoo! It's almost time. Who's ready to get started? I am! I am!

Consider this your final reminder to get your book ordered in time to start next week.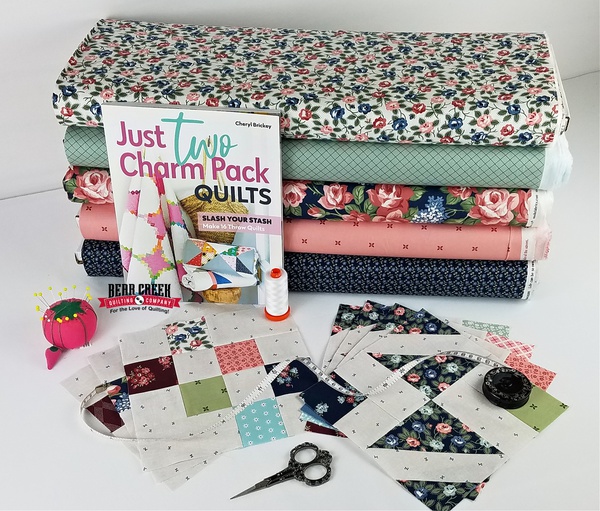 Some questions have come up over the last month as new members join our group. Here are some house-keeping points to remember:

The Diagonal Joy Quilt Sew-Along articles will be published right here on our blog each Monday following the schedule below.

The articles will be available for the life of our website. There is not a specific time you have to check in. There will be a reminder of new blog posts in the Monday Newsletters. You can join at anytime!

The Diagonal Joy Quilt is one of many published patterns in the Just Two Charm Pack Quilt book. The Diagonal Joy Quilt is the pattern we will be working on.

The Just Two Charm Pack Quilt is required to participate as no cutting/sizing information will be given. The book is available HERE.

You can work at your own pace. Want to go faster? Go right ahead. The schedule is to help motivate and organize those that want a slower approach.

I cut and pieced my sample quilt in three days so eight weeks gives you plenty of sewing time for this project. I love the pattern so much, I am consider doing another one. My biggest problem, which pretty new fabric collection to use!!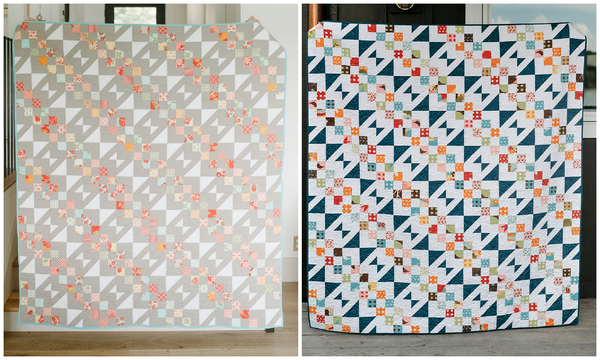 The finished quilt measures 64 1/2" by 72 1/2". Pictured above are the quilts from Cheryl's book. What a difference color placement makes.

To help you with color ideas, Cheryl has been very kind in developing a coloring sheet for us.

You can download the Diagonal Joy Quilt Coloring Sheet HERE.


Here is the Diagonal Joy Quilt Sew-Along Schedule:
09/25/2023 - Week 1: Introduction (We are here!)
10/02/2023 - Week 2: Fabric Requirements/Selection
10/09/2023 - Week 3: Cutting
10/16/2023 - Week 4: Piecing Triangle Units
10/23/2023 - Week 5: Piecing Corner Units
10/30/2023 - Week 6: Block A
11/06/2023 - Week 7: Units 1 & Units 2
11/13/2023 - Week 8: Block B
11/20/2023 - Week 9: Assembly
11/27/2023 - Week 10: Finish!


Our Diagonal Joy Quilt Sew-Along Private Facebook Group
is available for requesting to join is....
HERE!

Be sure to answer all the questions carefully and agree to the group rules. Only quilters that have purchased the book are allowed to join.

The Private Facebook Group is a great place for sharing progress and asking questions. It is not required to join to participate in the sew-along.

I am the moderator for all posts in the group. Please keep your posts on topic and supportive of your fellow sew-along companions.

I will see you back here next Monday to start talking about Fabric Requirements. Have a great week!

Questions?? Email us at sales@BearCreekQuiltingCompany.com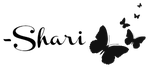 and the BCQC Team