Posted by Shari on July 20th, 2018
Have You Seen My Dad?


If you are following along with us, on my Dad's journey to travel US Highway 20, from coast-to-coast, you can find the posts

HERE

.


*****
July 14 Kadoka SD to Mt. Rushmore
Some days are bigger than others and this was one of them.
Up very early to watch the morning sun create interesting shadows from the jagged peaks of the Badlands. Easy to see how the fleeing tribes could hide from the cavalry in there. Saw a bighorn sheep, bunnies, groundhogs, and a snake.
Exiting the Badlands, I crossed I-90 to the town of Quinn. There a man has erected an astronomical observatory within the abandoned ruins of the local hospital. Unconfirmed fact: Quinn (and the Badlands) is the darkest night spot in the USA.
Before returning to I-90, I stopped at a Minuteman Missile silo in the middle of a cow pasture. You would never know it was there except for the sign and a knowledgeable young lady in a Federal Parks uniform sitting in a pickup. She says she doesn't get lonely out there waiting for curious travelers because she has the cows to keep her company.
Then down I-90 to Wall SD where I took a photo of the dinosaur. I didn't go to the Wall Drug Store tourist trap.
In Box Elder, I visited the South Dakota Air and Space Museum at Ellsworth AFB. Among others, they have a B-29, B-52, and a B1-b. All HUGE planes.
Leaving the interstate, I toured the Sturgis Motorcycle museum, saw the pit mine in Lead SD, and ended at Mt. Rushmore. Camping tonight near the faces of those dear old dead Presidents.
Tomorrow I may re-visit Mt. Rushmore before moving on. BOB's parking pass is good for a year.
It was a very long day with a lot of getting in and out and walking, but great weather and a good time.
-Dad


*****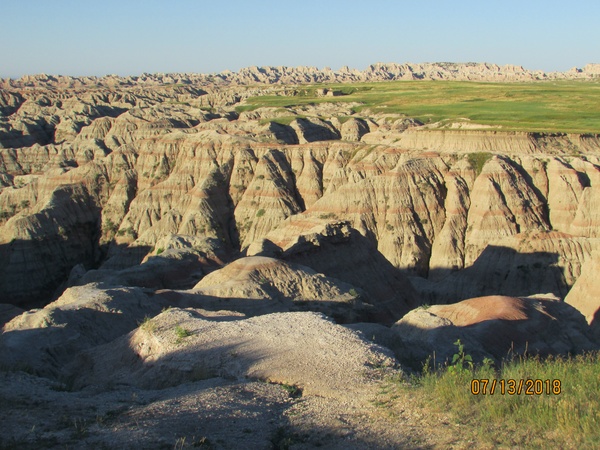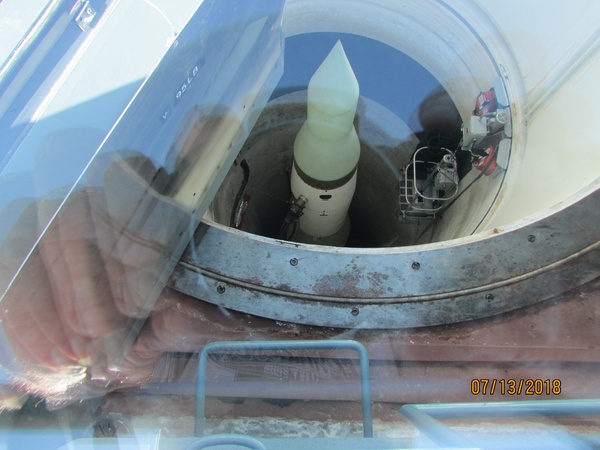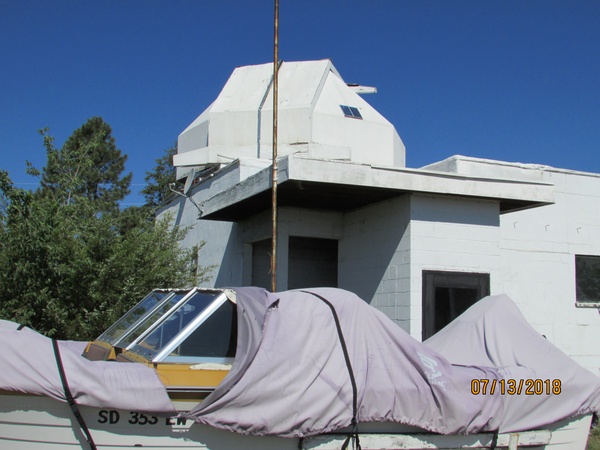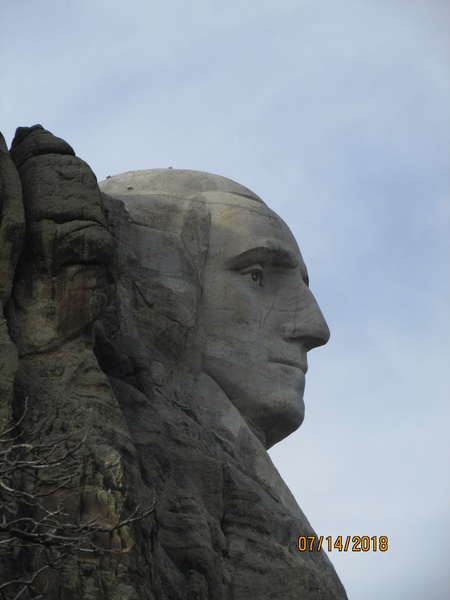 *****
July 15 Mt. Rushmore to Powder River Pass Campground
Rained all night but BOB kept me warm and dry.
Got a late start waiting for the rain to ease up before breaking camp and heading to see the Crazy Horse sculpture. I took a good photo of the base of the mountain, but Crazy Horse was lost in the clouds.
I stopped at Jewel Cave on the way to Newcastle and then waved South Dakota goodbye.
The rain stopped and it turned into a nice day by the time I got to Devil's Tower. Interesting formation. Now I want to go home and sculpt it in mashed potatoes (Close Encounters of the Third Kind).
When I left Devil's Tower, I headed west through Buffalo WY and am camped near Powder River Pass in Bighorn National Forest.
Very peaceful.

Cannot load photos at McDonalds for some reason. Will try to send them separately.

-Dad


*****
*****
Did I mention the open pit coal mine? Or how much I dislike McDonalds WI-FI? Burger King has better coffee too!
-Dad


*****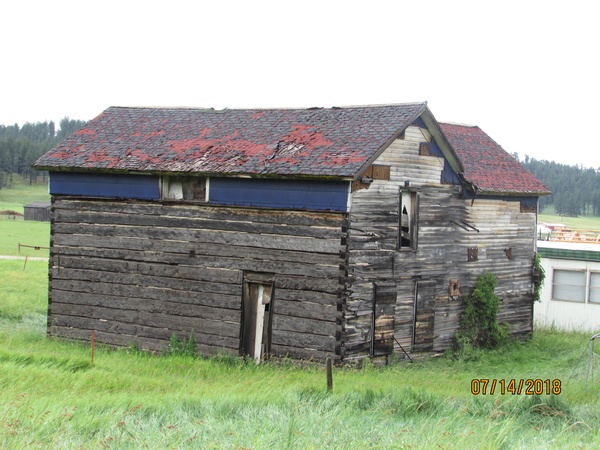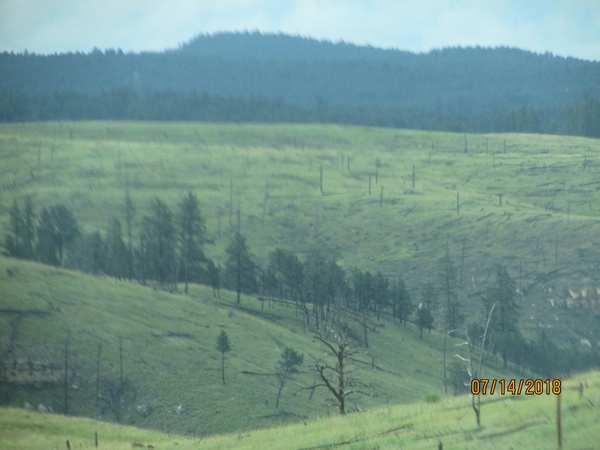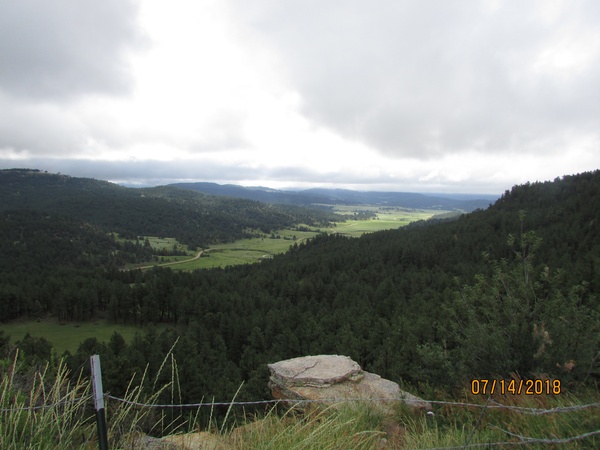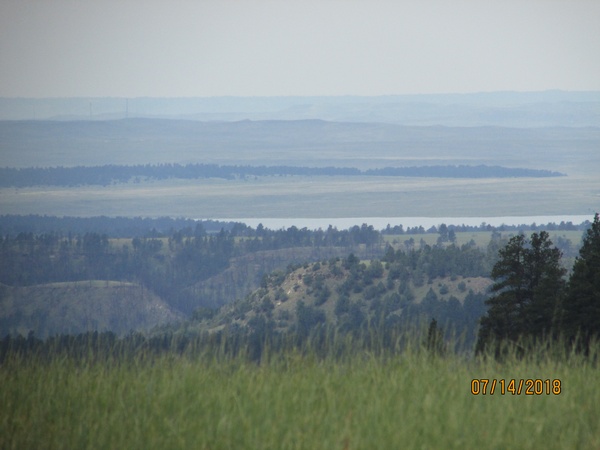 *****
July 16 Powder River Pass WY to Victor ID
I got high in Wyoming! Wonder if it is legal there yet. Huge delightful lightning display last night, but no heavy rain. Broke camp and drove about three miles to the top of Powder River pass (9666 ft), then descended down the Ten Sleep River canyon to Worland WY. What a gorgeous drive (pun intended). I took lots of pictures.
You may remember Worland as we have been there before - it is on Hwy 20. I followed my footsteps on US-20 down to Shoshoni WY.
Along the way I stopped at Kirby WY to check out the distillery for Wyoming Whiskey. I had missed it on my previous pass, probably because it was too late in the day.
I also took full advantage of the hot springs at Thermopolis WY. A twenty minute soak with a long hot shower after was a real pick-me-up. I highly recommend it. As a plus, my out-of-state mosquito bites stopped itching afterwards.
From Shoshoni, I headed west on US-26 through the Wind River Indian Reservation and into the Shoshone National Forest. I crossed the Continental Divide at Togwotee Pass (9658 ft), drove through Grand Teton National Park, and crossed Teton Pass (8431 ft).
BOB was not thrilled at all of the climbing - both Powder River Pass and Teton Pass have long 10 and 12 percent grades - but we took it slow and stopped for pictures a lot. Remind me to tell the story of the deer I took a picture of.
Tonight I am camped in the Targhee National Forest just west of Victor ID.
Wyoming is an awesome state with a ton of diverse terrain and incredible vistas.
-Dad


*****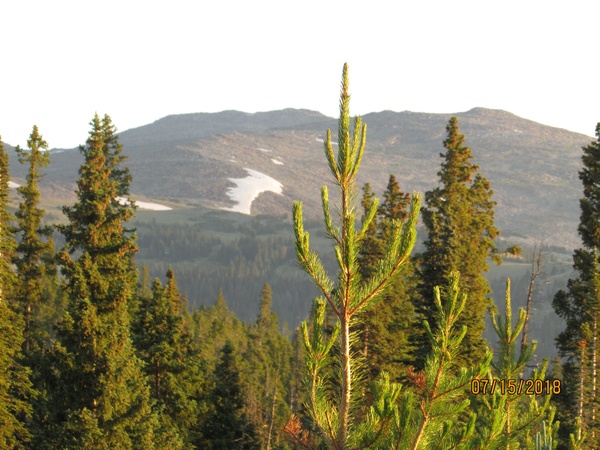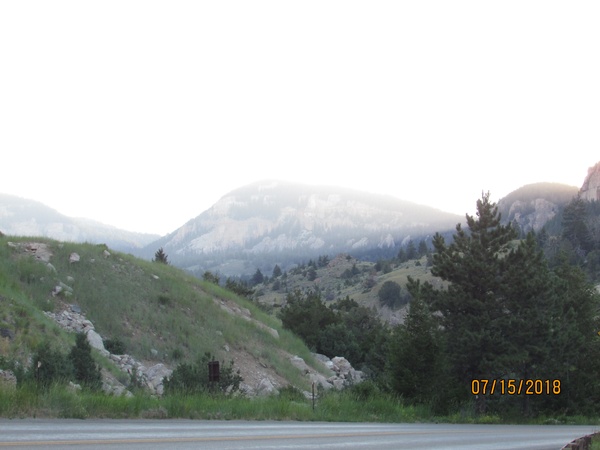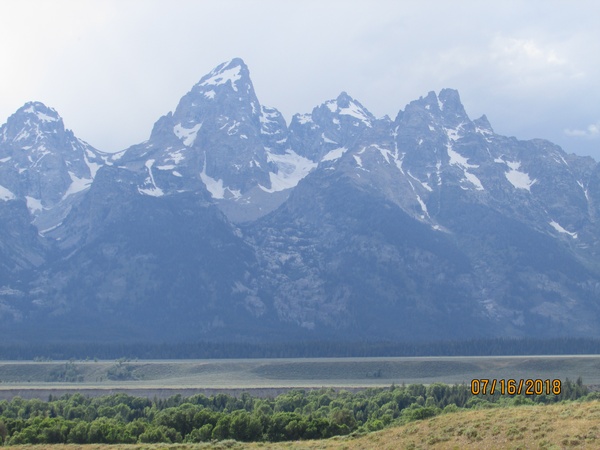 *****
July 17 Victor ID to Boise ID
I Took some great pictures of the sun rising over Targhee National Forest, and the morning mist over Pine Creek pass (6764 ft) as I headed into Idaho Falls ID.
I traveled south to Blackfoot to see the worlds largest potato (it is a model - not real), and then took US-26 to Arco going through Atomic City.
In Acro, I turned north towards Challis ID stopping to see the fault scarp at the foot of Borah peak - the highest spot in Idaho (12662 ft. You expected corn and soy beans?). An earthquake at this fault in the 1980's caused Borah peak to rise even higher as one tectonic plate pushed under another. The visible fault is several miles up dirt road, but worth the dust.
In Sunbeam ID, I turned north up a gravel road several miles to see the Yankee Fork gold dredge. When in operation, this monster created an enormous amount of devastation as it dug up the creek bed spitting tons of rock aside in the quest for gold.
Then on westward through Stanley ID on ID-21. In Lowman ID, I was stopped in a long traffic line due to construction, so I made the decision to turn south (staying on ID-21) rather than continue west as planned. BOB cautioned me that changing plans on the spur of the moment never works out as expected. After coaxing BOB over the steep Mores Creek Pass (6117 ft), we were stalled for a traffic accident that closed the road. Someone had driven over the edge and down the canyon. We waited two hours while the wrecker pulled the car back up. Shot my goal of being in Boise by 5:00 PM.
Boise. More about Boise next time.
-Dad


*****