Posted by Shari on March 31st, 2020
April 2020 Thread & Scrappy Fabric Bundle Give-Aways at Bear Creek Quilting Company!
What a month March 2020 was! We are so glad to flip the calendar to April and a hope of a brighter, better month.


What is a Scrappy Fabric Bundle? These are bundles we have created from remnant bolt ends, from popular fabric collections. We call them "scrappy" because the individual piece sizes, within the give-away bundle, may vary depending on what we have left over. The bundles may also not include the full collection. Enjoy the give-away!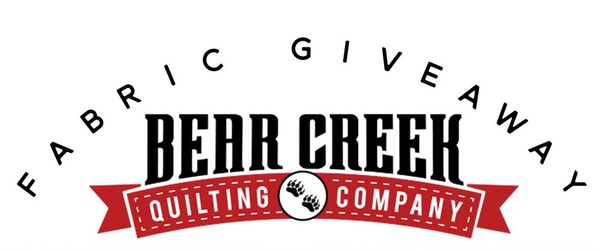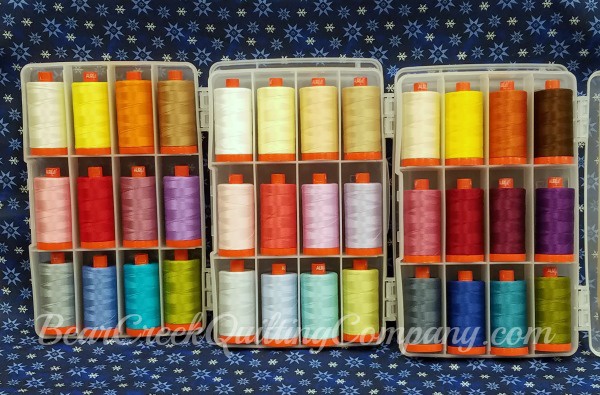 Prize #1: Aurifil Thread 36 Spool Gem Pack Collector Set
We are (unofficially) dubbing April as Aurifil Thread month and with that offering a mega thread prize this month to celebrate our recent Aurifil Gold Dealer status.

A Bear Creek Quilting Company EXCLUSIVE! We took the 12 most popular months from our past Aurifil Thread Gem Pack program and created this beautiful collector set.

Thirty six rich colors, ranging from light to darks, in three handy storage cases!

At time of writing this post, Collector Sets are still available HERE.

We love everything about Aurifil 50 weight cotton thread. The versatility is amazing! It can be used for piecing, machine and hand applique, machine and hand quilting, serging, machine and hand embroidery. You name it and this thread can do it!

With so many of you home sewing, we are extending our most popular Basics Pack special pricing thru the month of April, while supplies last. You can find our Basic Neutrals 3 Spool Pack HERE.

And don't forget about our exclusive monthly Palette Builder set. April's Aurifil Thread Palette Builder is Desert Dawn, available HERE.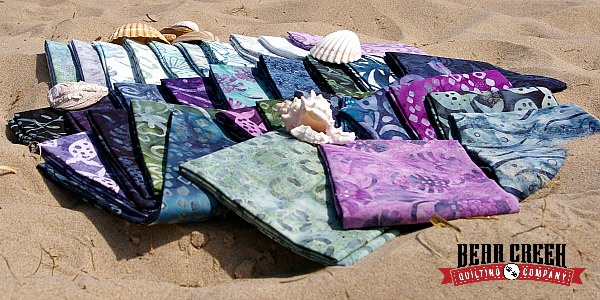 Prize #2: Coastal Getaway Batiks Scrappy Fabric Bundle

Coastal Getaway Batiks by Monique Jacobs of Open Gate Quilts, designed for Maywood Studio.

Sunshine glistens on the water and warms the sand, reminding us that a visit the coast is the perfect way to get away! Coastal Getaway Batiks is Monique's second batik collection with a seaside theme for Maywood Studio. Schools of fish, sailboats, and tropical plant motifs are colored in rich violets, deep blues, and sea greens reminiscent of the colors inside an abalone shell.

Patterns, yardage, and precuts are all in-stock. And a fun Coastal Getaway Batiks Quick Turn Quilt sew along started on 4/1. Grab a kit or just the pattern and come join the fun! You can find the details on our blog post HERE.

Need additional inspiration for this beautiful collection? Check out the Free Quilt Pattern available HERE.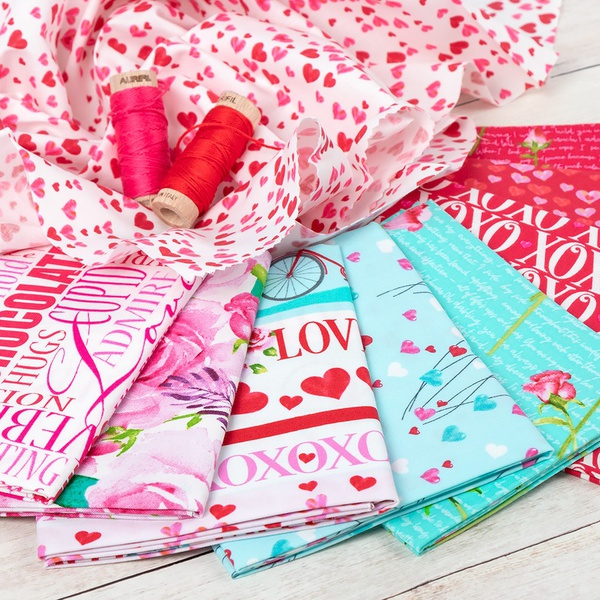 Prize #3: Love Letters Scrappy Fabric Bundle
Love Letters by Henry Glass & Co., Inc.

This was a fun little Valentine's bundle we had the Willamette Valley Quilt Show at the end of January in Albany Oregon. (These bundles are sold out.)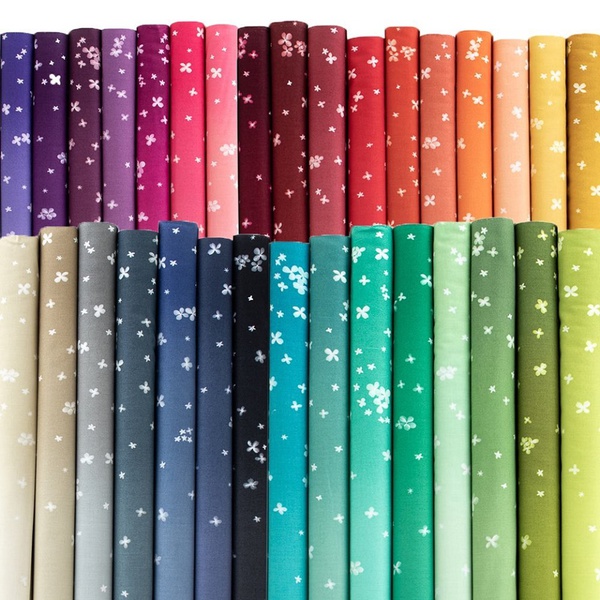 Prize #4: Ombre Bloom Variety Scrappy Fabric Bundle
Ombre Bloom by Vanessa Christenson of V and Co. for Moda

Adding to the ombre family is Ombre Bloom. This ombre has a personal touch from Vanessa's backyard. The blooms found on the fabric are pretty parfait hydrangeas made into a sun print and transferred to the thirty-two new colors now available in ombre. Colors and gradients you love, with a new beautiful flower overlay. Use it on its own, or intermingle them with other fabrics. Happiness blooms from within!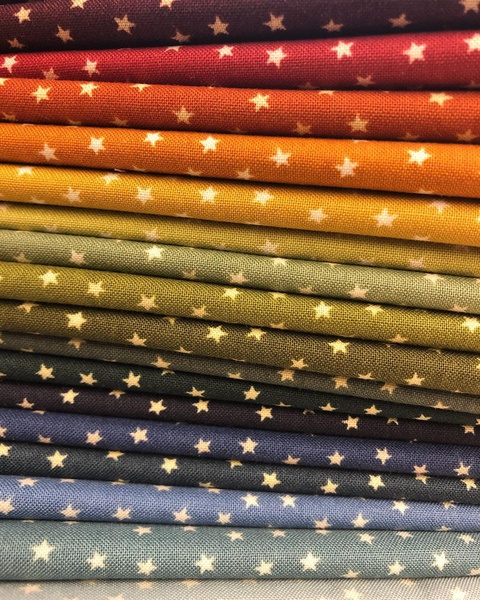 Prize #5: Stars Scrappy Fabric Bundle
Stars by Andover Fabrics

This has been a wonderful basic in a rainbow of 28 colors. Most of the individual colors have sold out. A full collection Fat Quarter Bundle is still available HERE (at the time of this posting).

Free Quilt Pattern is available HERE.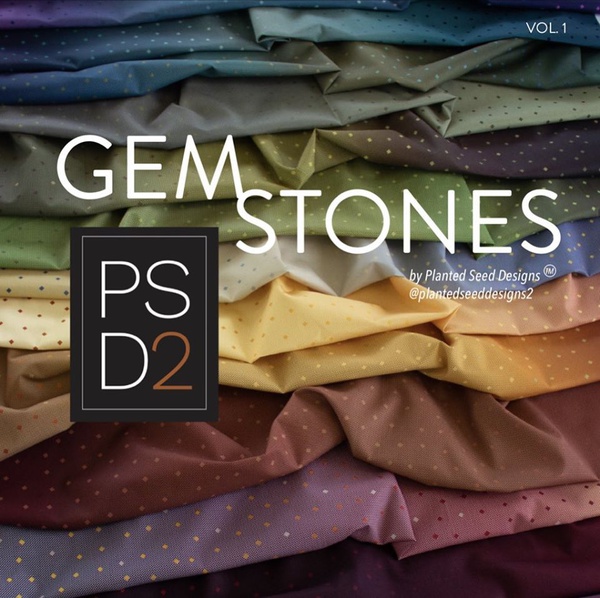 Prize #6 & #7: Gem Stones Ombre PSD2 Scrappy Fabric Bundle
Gem Stones Ombre PSD2 (Pure and Simple Designs for the Next Generation) by Gerri Robinson for Riley Blake Designs

Three boys, three color palettes, three distinctly different quilts. So PSD2!!

Three adult sons that love quilts but NOT their mom's quilts of florals, stripes, stars, and pinwheels. They want quilts that look and act more like them - more graphic, less designed, simple and clean. Quilts that are mom designed but son approved. Just as each son is unique, their taste in color, style, and design are unique as well.

Ombre coloring runs selvage to selvage.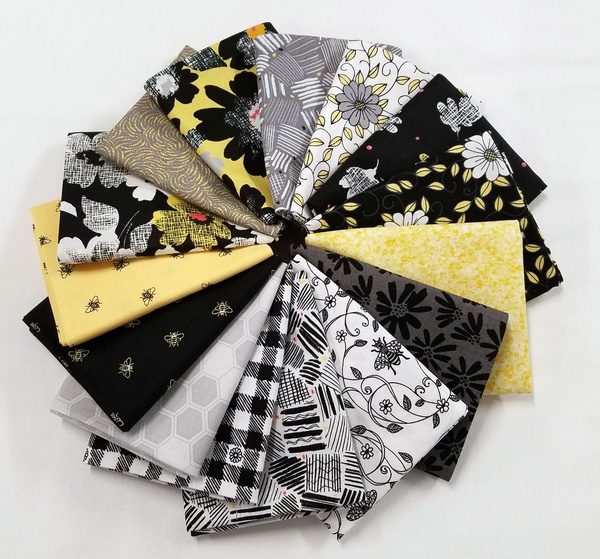 Prize #8 & #9: Honey Run Variety Scrappy Fabric Bundle
Honey Run Variety - a Bear Creek Quilting Company Exclusive!

Fabrics are from the Honey Run fabric collection and Juniper fabric collection by Riley Blake Designs. Coordinated with the Nadine fabric collection by Quilting Treasures.
This is a yellow, black, and white colorway bundle.

We brought these happy little bundles to our quilt show in January and they were an attention getter! We still have a few available at the "show special". You can find them HERE.



Need more project inspiration? We have over 1000+ Free Quilt Patterns available, courtesy of our fabric manufacturers. See all we have listed HERE. And new patterns are being posted as new fabric collections arrive.


Give-Away Details:
No purchase necessary. Valid for US entries only. Only entries on the Gleam Give-Away tool are eligible. Must be a current newsletter subscribers at the time of drawings. Images above are to display fabric prints only, not exact images of scrappy fabric bundles. Winners will be notified by email and announced in Saturday, May 9th, 2020 newsletter.


5/6/2020 Congratulations!!! Winners Announced:

Vernanne Matson
Susan Milani
Victoria Wolfe
Charlotte Henson
Judie Cantrell
Mary Mairs
Megan Doyle
Debra Reber
Shirley Scott

Notification emails have been sent with details on how to claim your prize. Thank you!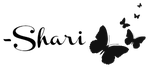 and the BCQC Team