Posted by Shari on May 21st, 2019
Welcome!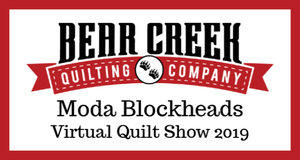 Moda Blockheads had two wonderful sew-alongs that included free weekly block patterns; Moda Blockheads I and Moda Blockheads II. (Stay tuned for upcoming details, Moda Blockheads III starts January 2020!)

A big "THANK YOU" to the Moda designers for creating and providing the weekly patterns for both sew-alongs!

We have loved seeing your progress for both Blockheads sew-alongs and would like to have a virtual quilt show to show off your beautiful creations.

If you are looking for the free quilt block patterns for Moda Blockheads II, they are still available HERE. Moda Blockheads I newly released book is available to order HERE.

Entry Quilts:
This virtual quilt show is for Moda Blockheads quilts only. Your quilts can be from either program I, II, or combined. Your quilts must be finished (quilted and binding); top-only entries do not qualify.

Entry Deadline:
Entries may be submitted via email until Wednesday June 26th, 2019.

How to Enter:
Email your quilt image, along with your full name, city/state of residence, and short written permission for us to publish your quilt image in our virtual quilt show to: sales@BearCreekQuiltingCompany.com

Winners:
Three winners will be chosen by popular public vote. Images and voting instructions will be posted on Wednesday July 10th, 2019. Voting will close on Sunday July 21st, 2019 and winners announced on Friday July 26th, 2019.

Prizes:
Top three winners will each win a $50 Gift Certificate to our online store.

Additional Questions:
Please email us at the above email address.

Ready? Set? Let's go!