Posted by Shari on March 23rd, 2020
Coastal Getaway Batiks Quick Turn Quilt Sew Along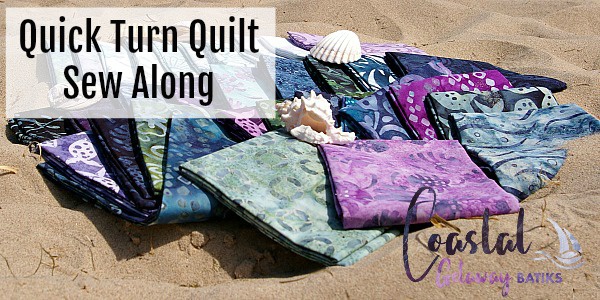 Many of you may be finding yourself with extra time on your hands during this unfortunate Coronavirus crisis and looking to start a new project.

We are here to offer some inspiration!

We have teamed up with fabric and pattern designer Monique Jacobs of Open Gate Quilts for an exclusive sew-along!

Monique designed the Quick Turn pattern to feature her newest fabric collection Coastal Getaway Batiks by Maywood Studio. We had the honor of showcasing this quilt in our quilt show booth at the Willamette Valley Quilt Festival in Albany Oregon on January 31, 2020.

This quilt is stunning!! The Coastal Getaway Batik fabrics are vibrant in blues, purples, and greens. Team those up with the soft light colors and you have a fabulous pattern with lots of movement.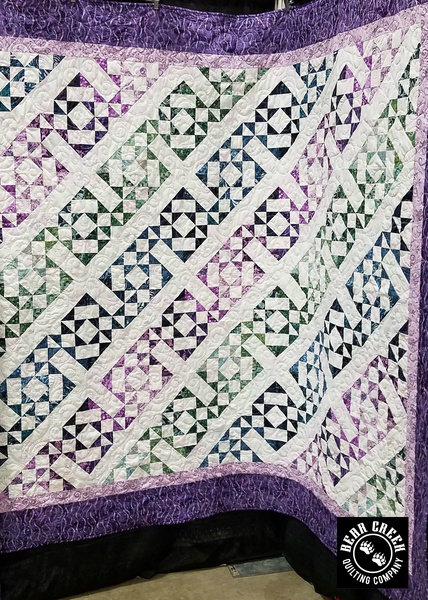 Fabric Requirements for 80" x 96":
6 - light colored fabric fat quarters (blocks)

6 - dark colored fabric fat quarters (blocks)

6 - 3/8 yard medium colored fabrics (blocks)

4 7/8 yard light colored fabric (background)

3/4 yard your choice (inner border)

3 yards your choice (outer border and binding)

6 yards your choice (backing)
Videos will posted weekly starting on Tuesday March 31st on Monique's Open Gate Quilts You Tube Channel. Links will be added to this Sew Along blog post, as the videos become available.

Quick Turn pattern-only is available for purchase here. (Note: Pattern purchase is required to participate. The pattern will have specific details not provided in the video tutorials.)

Coastal Getaway Batiks Quick Turn Quilt Kit is available for purchase here.


Video 1: Sorting/picking fabrics

Monique will share her insight on how to get the desired pattern effect in fabric placement, along with cutting fabrics and how to stay organized.


Video 2: Creating individual blocks



Video 3: Layout and sewing blocks together, including adding borders and suggestions for machine quilting



Monique is an experienced pattern designer and a wonderful teacher! She will cover quilt making basics; such as 1/4" seam allowance, basic cutting, tips on pattern reading, and pressing your seams.


So, grab the pattern or a kit, and let's get busy sewing!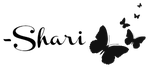 and the BCQC Team