Posted by Shari on April 12th, 2023
Welcome to Our Garden - Rolling Petals Quilt Pattern

Welcome back!


As I wrote in my last blog post, I was accepted as a Maywood Studio Maker for 2023. This means I am an ambassador for Maywood Studio, and I will be sharing several projects throughout the year.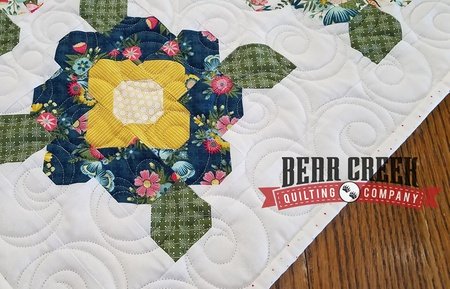 I am allowed to post sneak-peek images on our Facebook page as I am working along on projects. Secrets! Secrets! I will then have a reveal project blog post after the completion deadline.

I am looking forward to bringing you wonderful inspiration project ideas using Maywood Studio fabrics!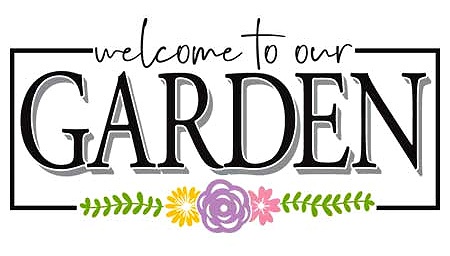 Upon completing our introduction project, we were given our first official project details. The project theme was "Welcome to Our Garden".

The scope of our first project was to give our unique take on this theme. The Maywood Makers are allowed to create their own pattern or use an existing pattern.

Perfect! I love working in the flower garden!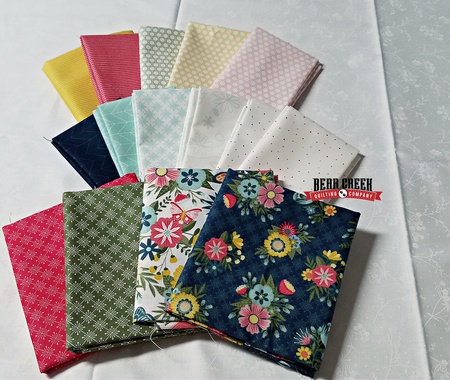 Using the newly released Kimberbell Vintage Flora fabric collection, we were challenged to create a mini quilt for display at the Sister's Quilt Show in Oregon this July. How exciting is that?!

Each Maywood Maker's quilt will be different and unique while using the same fabrics and theme. I will post a blog article showcasing all the mini quilts together in late July.

The Kimberbell Vintage Flora fabrics are perfect for that spring inspiration project on rainy Oregon days.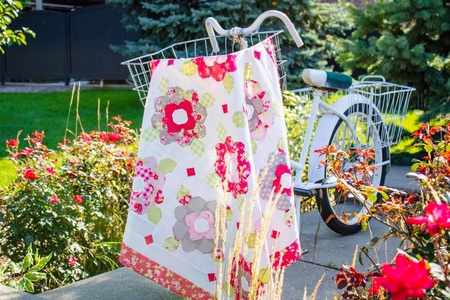 As I started doing research for my inspiration I came across My Sew Quilty Life Blog by Heather Briggs. Her Rolling Petals Quilt Pattern was perfect! So cute and dainty and nothing like I had seen in a quilt block pattern before.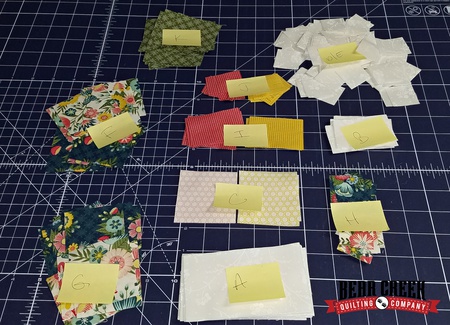 Oh boy! A lot of small fabric pieces, so organization was required. I used small post-it notes for labeling each fabric cut. If I was creating a larger project, I would have used marked ziploc bags.

Confession time, this is the smallest pieced project I have ever created! I prefer to make bed-size quilts and that allows me to work with larger pieced blocks. I was amazed at how much fun I had with this smaller project and how quickly it came together. I am already strategizing for a matching Rolling Petals Table Runner, as I won't have my Table Topper back from Maywood Studio until 2024.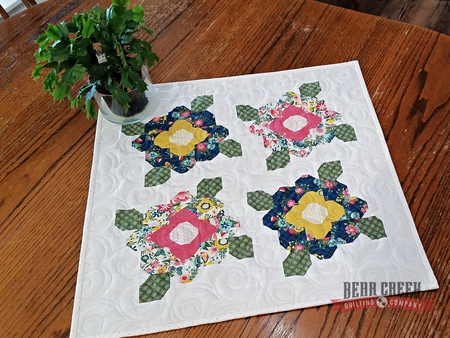 My Rolling Petals Table Topper completed at 23" by 23", just under the maximum measurements for my Maywood Maker's project. My project used four blocks from the Rolling Petals Quilt Pattern. I then added a single outside border.

Inside the pattern, Heather has included the fabric requirements for her various sized quilts along with fabric requirements for a single block. This makes cutting fabrics for just a few blocks very easy.


We are super excited to collaborate with Heather on this and offer the Rolling Petals Quilt Pattern as one of our first Designer PDF Downloadable patterns.

The Rolling Petals Quilt Pattern is available for purchase on our website.

(Did you know that shops do not have the right to sell PDF Downloads unless authorization is given by the pattern designer? This is commonly misunderstood in our industry.)


A special bonus is that Heather has a wonderful Rolling Petals block tutorial to help you along. Her quilt pattern is easy to follow and having a block tutorial available helped confirm every step along the way. This is great for both written and visual learners!


The Rolling Petals Quilt Pattern is 2 1/2" strip friendly. You can use small cuts of yardage for a great stash-buster project. You can create one block or several, assemble the Rolling Petals blocks together to create a table topper or a table runner, or add on blocks to create a quilt. This pattern is so versatile, you may find it hard to stop making flower blocks!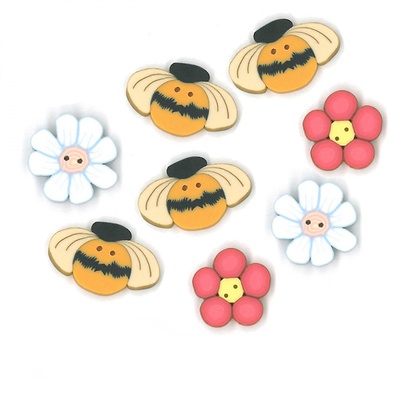 I forgot to snap a picture before I shipped my Rolling Petals Table Topper off to Maywood Studio; I added these cute little Kimberbell Buttons to my project. The bees are so cute!


Rolling Petals Sew Along:
We have layed out an informal schedule below to help inspire you.

Work at your own pace and ENJOY!

Week #1: Purchase the Rolling Petals Quilt Pattern from our online store

Week #2: Gather your choice of fabrics for your project

Week #3: Cut and organize your fabric pieces

Week #4-6: Sew your Rolling Petals blocks

Week #7: Assemble your rows.

Week #8: Email us a picture of your finished top or completed project, to be showcased in an upcoming blog post. Be sure to include your full name and contact information. No promises, but we are working on something special for submitted Rolling Petals project images.

Deadline to Email us your Rolling Petals project image is June 14th, 2023.

We are excited to see what you create!