Posted by Shari on September 14th, 2014
Spooky Moonlight Manor Madness with Paula!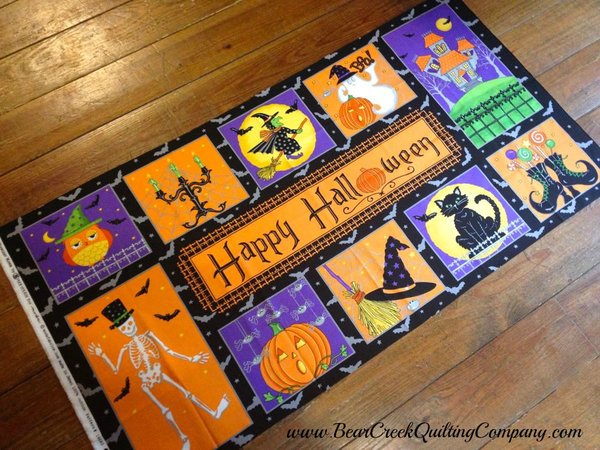 Hi guys, Paula here from over at The Sassy Quilter! I have been enjoying my summer, but as any quilter knows, now is the time to start thinking about your holiday projects. Well, if you want to have them done by the holiday anyway.

Bear Creek Quilting Company has just gotten in this super fun panel, Moonlight Manor by Deb Strain for Moda, and there are some seriously cute prints that coordinate....I mean can you see these cute & spooky little owls and spiders!!! I whipped up an entire holidays worth of projects using one panel and these coordinating prints. Some fun solid options are available too.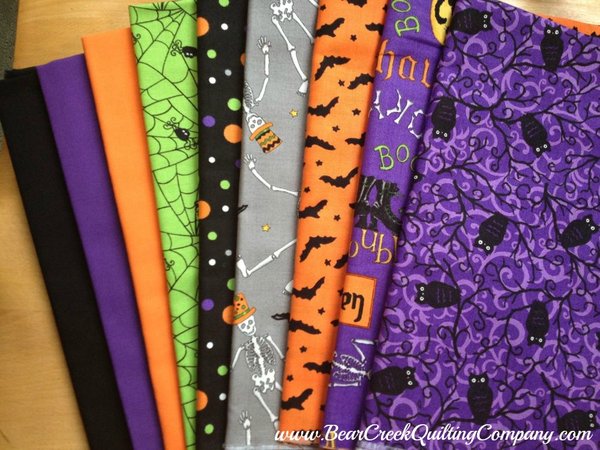 ** Spooky Table Runner **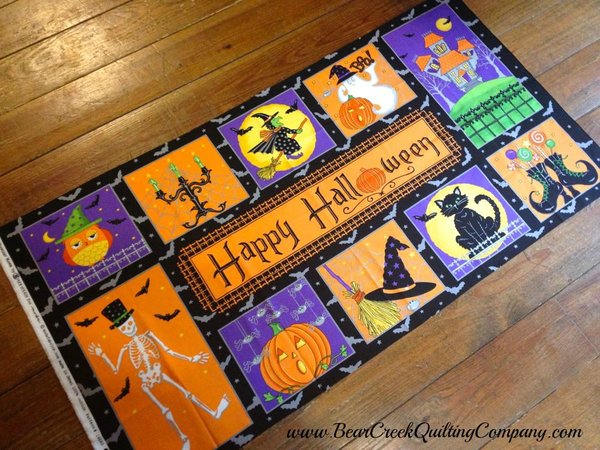 This was so easy! I just trimmed 1/2" around this grouping on the panel, layered it up and had some real fun experimenting with my free motion quilting. Panels are great for doing that!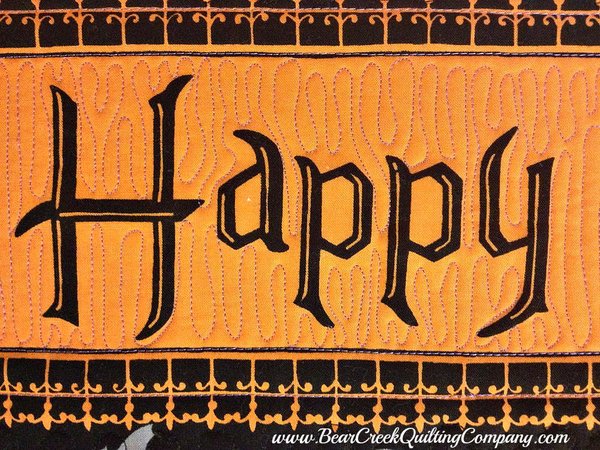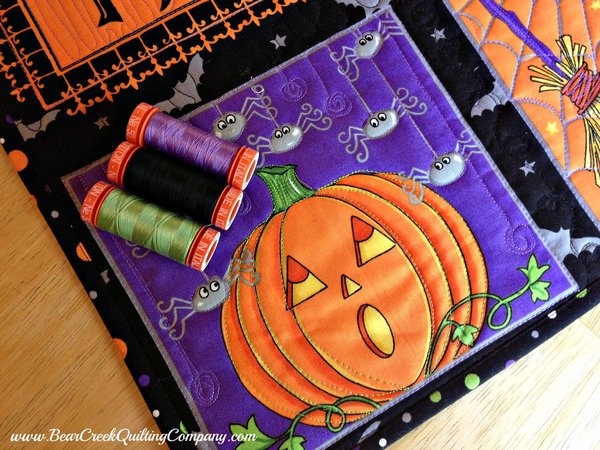 For the machine quilting, I used an Aurifil 50 weight cotton thread in green, purple and black. The purple really blended well with all the different colors.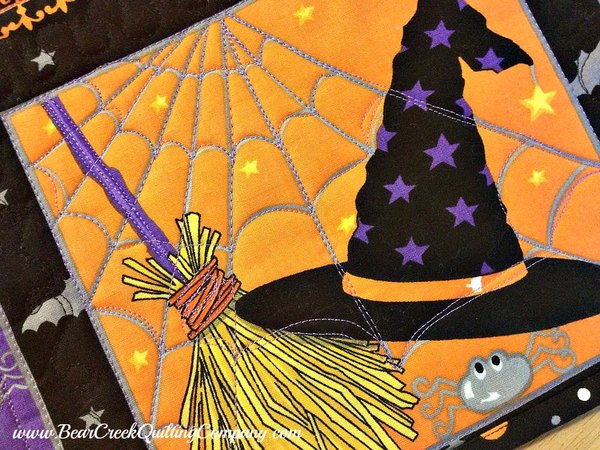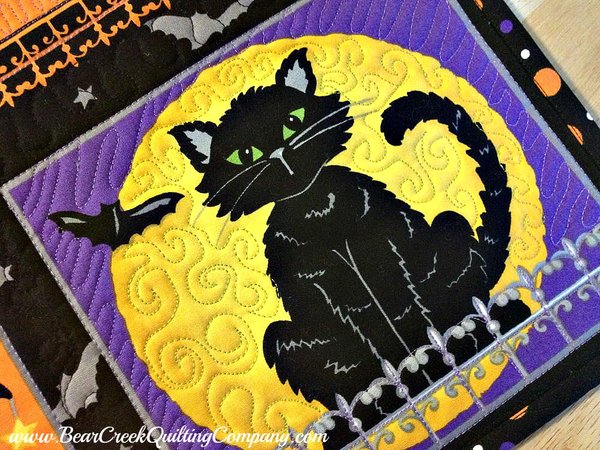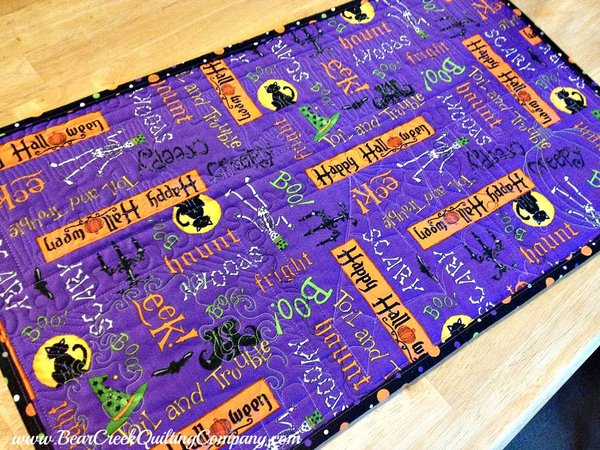 I thought this print was great for the back or even fussy cutting some of these phrases for some applique.
** Spooky Quilted Hanger **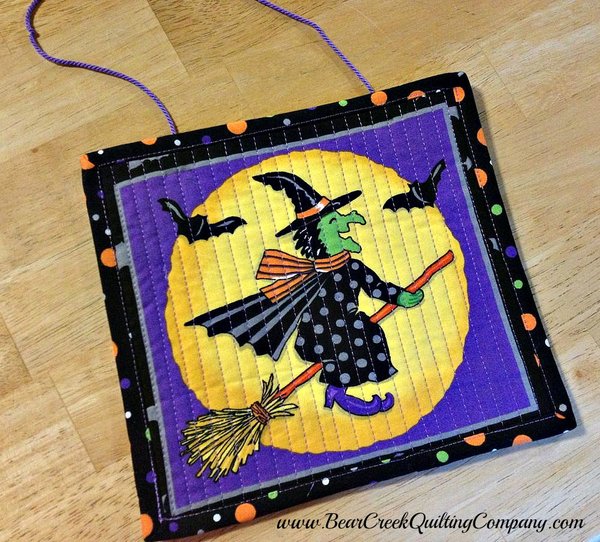 For this one, I just trimmed around one of the smaller panels about 1/2", quilted it up and then did a binding just like it was a regular quilt. Then I attached a simple string to use as a wall hanging or to hang on a door knob or mantle. I love this dottie binding print! P.S. to attach the string I used a little blob of washable Elmer's school glue. That way I can peel it off if I want or wash it. You could attach a permanent hanger, but this was easy and I can use as a mug rug or whatever I want if I change my mind.
** Spooky Treat Bag **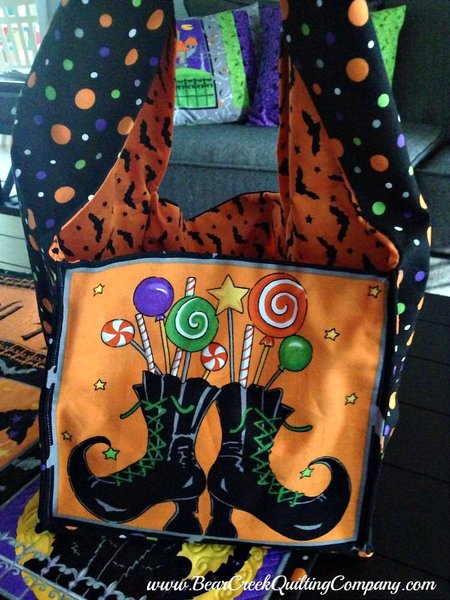 I made a simple, soft sided treat bag using two of the smaller panels (the cute little owl is on the other side). One on each side with a strip that goes around the sides and bottom, then I lined it. I am not really a bag maker, but this will do for treat gathering or I can tuck the handle inside and set a bowl of candy in there!
** Spooky Pillows **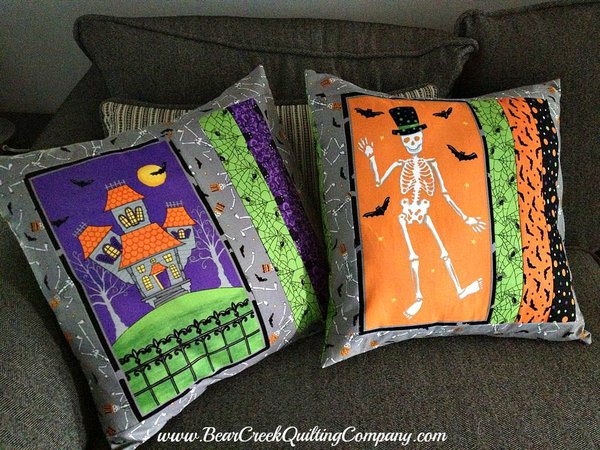 How fun are these! They finish at about 18" and are an envelope style on the back so you can reuse the pillow forms for all your holidays.
Check back next week for a tutorial on how to make the Spooky Pillows!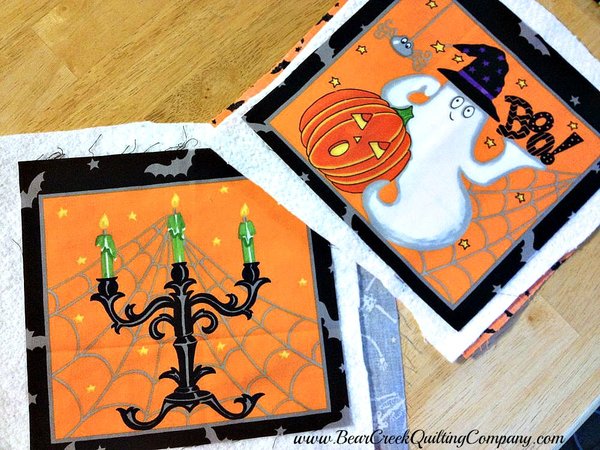 We are STILL not done with all the spooky goodness in this panel...I have two left over that I am layering up to make some mug rugs/coasters for my coffee table.
Wow! That was a lot of holiday fun out of one panel and a few matching prints. Now I am ahead of the rush and ready to get Spooky!
Keep it Sassy♥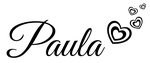 ♥♥♥♥♥


In celebration of Paula's inspirational project ideas, we are having a Give-Away!

We have a Moonlight Manor panel, 4 - 1/2 yard Moonlight Manor coordinating pieces of fabric and 3 spools of matching Aurifil 50 weight thread to give-away to a lucky quilter to get started on their own projects.

The Moonlight Manor Madness give-away is open to Domestic US and International customers.

Give-away starts today (09/14/2014) and will run until midnight (Pacific) 09/20/2014.

Winners will be randomly selected and announced on 09/21/2014; just in time for the Spooky Pillows Tutorial.
How to enter The Moonlight Manor Madness Give-Away: Give-Away Closed

1. Leave a comment telling us what YOU would make with this Moonlight Manor fabric bundle!
That's it! Sweet and easy!

We look forward to reading all your great project ideas! Good luck!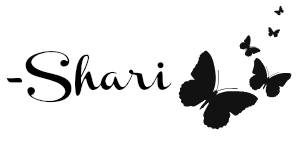 Moonlight Manor Madness projects were designed and created for Bear Creek Quilting Company by Paula of The Sassy Quilter.

Fabric used in this tutorial is from Moonlight Manor by Deb Strain for Moda and Kona Cotton Solids by Robert Kaufman.