Posted by Shari on March 13th, 2014
Are...You...Ready...To...RUFFLE??
Hello and Welcome! This is my first blog hop and I am honored you have
taken the time to visit. A big "Thank You" goes out to Madame Samm at
Sew We Quilt and our cheerleader Amy from at Sew Incredible Crazy
for organizing such a ruffly fun hop.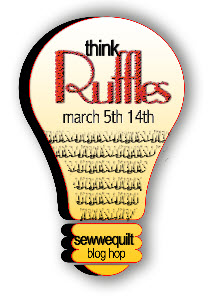 Today is our day and I am excited to reveal our RUFFLES!
Ruffles...ruffffffly ruffles...what can I say...ruffles are fun!
They add dimension, they add texture, they add a fun touch to any project.

I have had a ruffle quilt on my creative bucket list for some time and
I wanted to create a quilt for my youngest niece (she will be 1 in May - shhh,
it's a surprise!) so when I found inspiration from Madame Samm
of Sew We Quilt; I knew it was the time.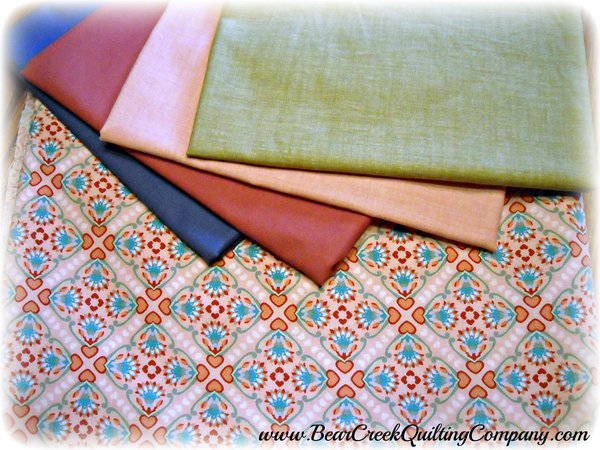 The first fun challenge is finding fabric. Grace by RJR Fabrics combined
with
Color Weave by Moda and Kona Cotton Solids by Robert Kaufman are
my choices
for this project.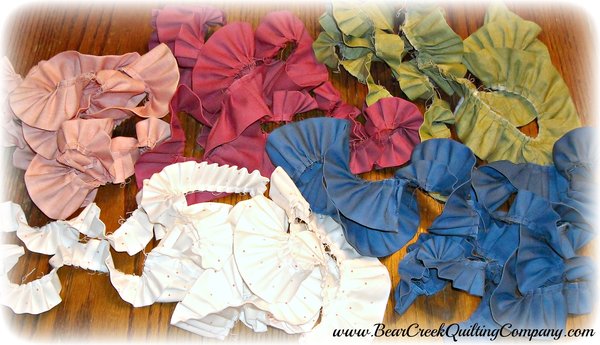 And then it was time to make the ruffles! Lots and lots of ruffles.
Big ruffles and little ruffles and all ruffle colors. A ruffler sewing
machine foot made the task easier and it was fun. (I see many
more ruffle projects in my future.)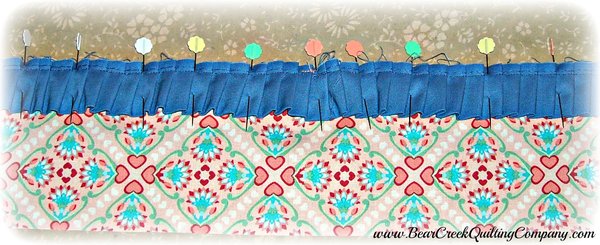 I rarely slow down long enough to pin pieces into place but these ruffles
demanded they be tamed. So, lots of flower pins to the rescue.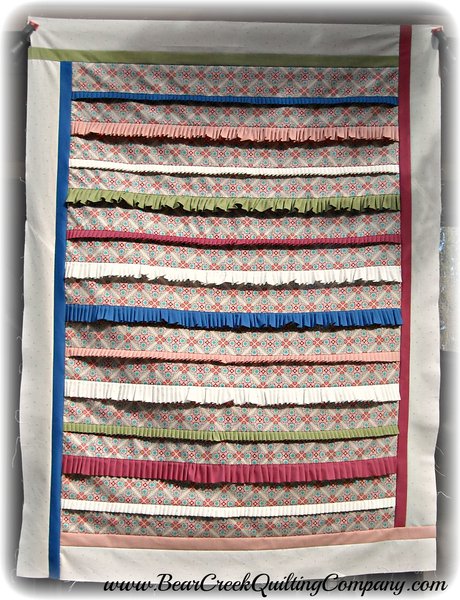 So I apologize for not having a completely finished project. (I tend to take on projects that are a little larger than I give them credit or time for.) This quilt's first challenge was the ruffles and now it is the machine quilting. See, I have a confession to make - I have a lovely machine quilting friend that tames my large quilt sandwiches. She has the big beautiful fancy machines and she does it full-time for work and pleasure. But I know better than to take this Ruffle Quilt to her (and I was out of time) so challenge number two; I am going to attempt my first machine quilting.
Stay tuned for more to come with this adventure...
BUT WAIT...THERE'S MORE...AFTER THE SUN GOES DOWN...AND THE SEWING MACHINE COMES TO LIFE...
So, in the final hours, I started machine quilting! Just easy (who said easy...ok, maybe easy but you have to goooo rreeaalllllyyyy sssslllloooowwww to maintain proper control) straight stitches. A few rows back and forth and back and forth and...HEY, LOOK, I'm machine quilting!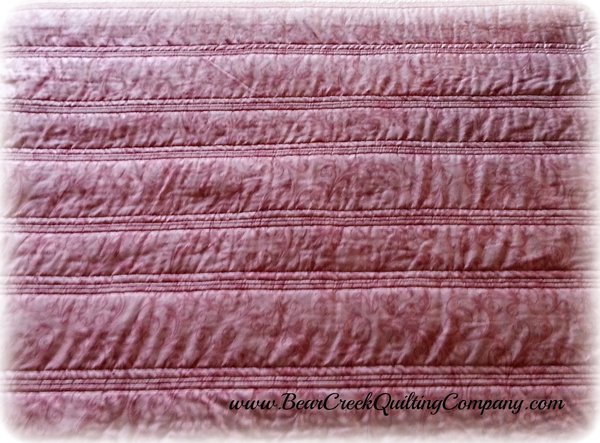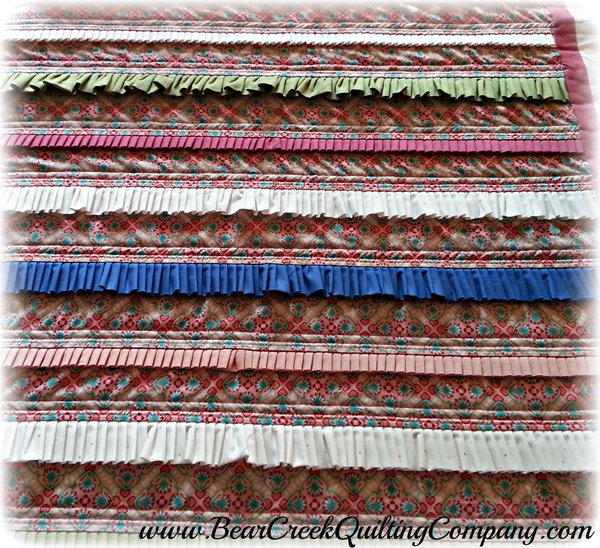 My vision is to finish the quilt with a fluffy ruffle binding edge. Let the adventure and ruffles continue...

Thank you for following the Think Ruffles Blog Hop schedule and cheering on all the wonderful talent of these creative designers for this Think Ruffles Blog Hop. Here is the schedule for the final day.
Friday, March 14th:

"The world is a better place with words of inspiration and encouragement."
-Unknown