Posted by Shari on April 1st, 2021
Welcome to spring-time at Bear Creek Quilting Company!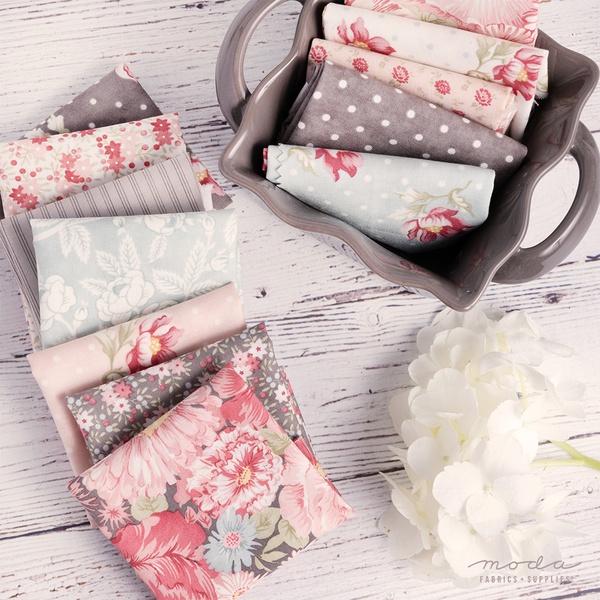 Let's start with a formal introduction, as we have been welcoming so many new quilters recently.

WELCOME!!! We are a family owned online shop located in Lebanon Oregon. We have been online for just over ten years. In December, we bought our own building and expanded, tripling the space we had been leasing. (We moved 5 miles down the road, so not very far.) Moving has allowed us to stock more inventory, hire more staff, and continue to serve our growing sewing/quilting customer family.

If you are new to us, we hope you take the time to read our web pages: Policies, About Us, and Frequently Asked Questions.

If you are a "regular", we THANK YOU for your continued support!
Every order, every referral, every recommendation to our site and service, allows us to serve a larger crafting/sewing/quilting community.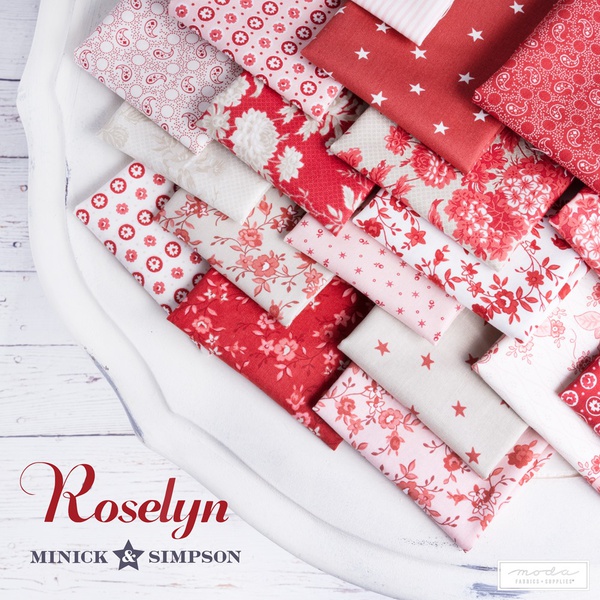 Updates! Wow! Where do I begin. So much has been happening around the new facility. Let me give you some highlights:

-Local Curbside Pickup: This has been well received from our local community and it is fun meeting new faces (from a safe distance), when your order is brought to your car. Local Curbside Pickup customers get a re-usable tote bag with their order.

-"Rosie" Long Arm Machine Quilting Service: Our new service is growing! And, oh my the incoming quilt tops are sooooo beautiful! The variety of quilts we are receiving is amazing and each one is as special to us as it is to the creator. We have made it easy for local and online customers. Our "all-inclusive" price includes the batting, the tread and trimming. Our available designs will expand in April. Watch for the announcement in an upcoming newsletter! Start planning now for those graduation, baby shower, wedding quilts that need to be machine quilted.

-Kona Cotton Solids 365: We have stocked all 365 colors as bolted yardage! Color Card is available.

-Maywood Studio: We are re-stocking the Color Wash Flannel, Woolies Flannel, Shadow Play Flannel, and regular Shadow Play as fast as we can. Along with the Solitaire Whites and Elite Silky Cotton Solids. Color Cards are available for all these.

-Fabric Bundles: Our Project Area arrangement was recently finalized and we are starting to offer Fat Quarter, Half Yard and One Yard fabric collection bundles, with many of our new arrivals.

-Basic Bundles: While we were not able to offer the Kona Solids monthly subscription bundles again this year, we are offering a variety of other Basic Bundles. These are not a subscription and you can order these as they become available and they interest you. Keep in mind, the offerings will continue to change and we may not restock them as they sell out. (Hint, hint....don't delay in your decision making.)
Current offerings are: Serenity, Marbled, Crescent Swirl, Peppercorn, and Scrap Happy.

-Aurifil Thread: The 50 weight cotton Color Builders, were so popular that Aurifil has launched 40 weight cotton Color Builders for 2021. 40 weight is just a hair thicker than 50 weight. 50 weight cotton is the most popular for....well, almost everything; piecing, general sewing, machine/hand quilting, machine/hand embroidery, machine/hand applique. We had requests to stock the 40 weight Color Builders and while there was a little bit of a delay....they were due in January....they have arrived and are now in stock.

-Free Quilt Patterns: We passed the 1200+ mark for our free quilt patterns category! And the free quilt pattern category continues to grow as new fabric collections arrive.

-108" Backing Fabric: We have expanded our offerings for backing fabric. Many of you got busy sewing when Covid hit and you were confined to home. There is an abundance of quilt tops out there that need to be finished. Check out our growing selection of 108" backing fabric and let us help you get your project completed.

-Sampler Spree Quilt -Along: Moda Blockhead Fans - So What's Next? On June 2nd, 2021 a special "Sampler Spree" quilt-along starts with Susan Ache and Martingale/That Patchwork Place. The fun begins with more than 100 beautiful quilt blocks that all finish at 6" square, making them perfect for using scraps and for easy mixing and matching. Whether you prefer traditional or modern, you'll find so much to love in the varied assortment of block designs. You don't have to make all 100 blocks in the book, you can if you want. Note: The book will be required to participate. From what we understand so far, the updates will be posted on the Moda Blockheads Facebook Group page.
The Sampler Spree book can be ordered from our website.
PS. Not familiar with Moda Blockheads? You can still find the past free blocks on our website: Blockheads #2 and Blockheads #3.

-Updates from our fabric manufacturers: Many of our fabric vendors, Moda and Northcott being two of them, are experiencing delivery delays due to a variety of reasons; printing mills are overwhelmed with production requests, shipping container shortages, available space on freight ships, labor shortages at the Ports, and delays by UPS, FedEx, and USPS due to the increased shipping demand. A

lmost off our fabric vendors have announced recent price increases. This is on top of the shipping carriers also increasing prices.



What does that mean for us? We will keep our website up to date with delivery dates. We will not be turning on as many pre-orders with vendors that are experiencing these delays. We are committed to continuing to bring you the best quality goods at fair pricing.

What does that mean for you? Some of you may experience USPS slowness in your package deliveries. (It was really bad in late February but is getting better.) Collections you have your heart set on may arrive a month or two later than expected. Plan your upcoming gift projects accordingly. Patience will continue to get all of us through this. Email or call us directly if we can be of additional assistance. We are happy to help and give updates.


Ok, Let's get on with this month's give-away!

We have collected up a tote full of fun Moda trinkets, along with some "Win It Before You Can Buy It" Charm Packs. The Charm Packs are from collections that will arrive in late summer/early fall; Grace, Urban Homestead Gatherings Wovens, Belle Isle, Fall Fantasy Flannels, Speckled by Ruby Star Society, Holiday Essentials Christmas, and Christmas Morning.

Trinkets in the goodie bag include; leather coaster, magnetic thread cutter, note pad, needle keeper, zippered pouch, patches, stickers, key chain, ruler templates, and more.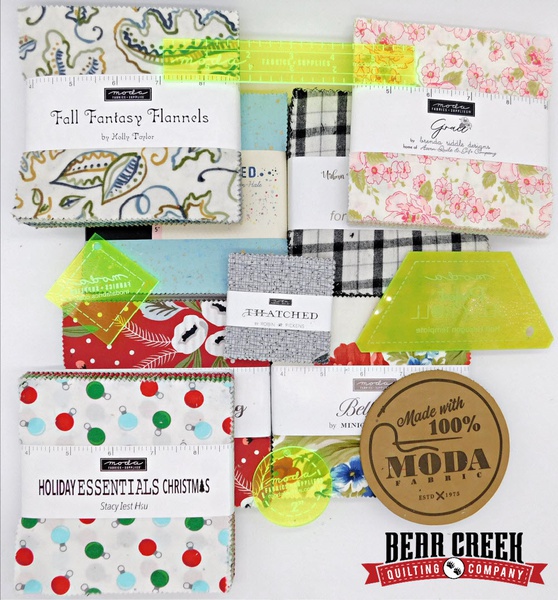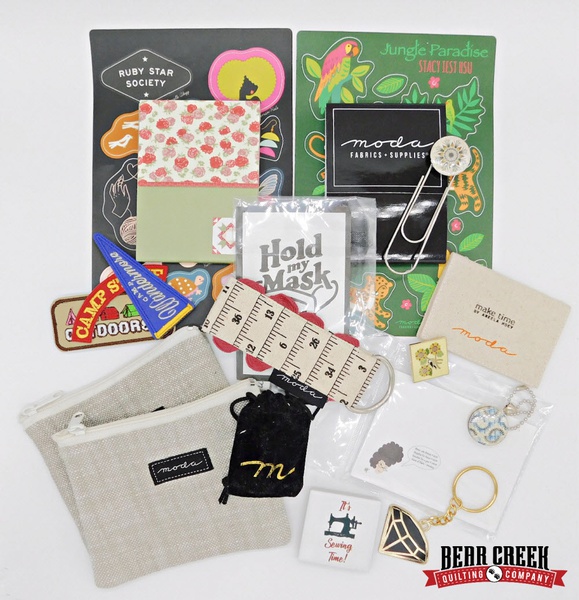 Gleam Give-Away tips and tricks: We have added more ways to enter with this month's give-away. You do not have to complete all the entries, if you don't feel comfortable. If you already a newsletter subscriber, you can skip this entry. Reminder, we do these give-aways for fun. Participating is voluntary. Thank you.



Give-Away Details:
No purchase necessary. Valid for US entries only. Only entries on the Gleam Give-Away tool are eligible. Must be a current newsletter subscribers at the time of drawings. Winners will be notified by email and announced in Saturday, May 8th, 2021 newsletter.


5/3/2021 Congratulations!!! Winner Announced:

Debbie G of Black Diamond WA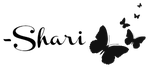 and the BCQC Team