Posted by Shari on June 9th, 2014
Wristwatch Quilt Finish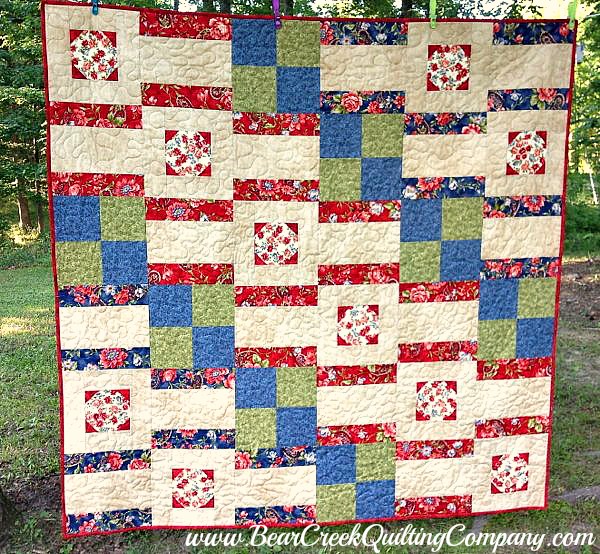 I hope everyone has enjoyed following along and seeing step by step how this quilt was put together!
I wanted to show you guys my finished Wristwatch Quilt...all quilted and bound.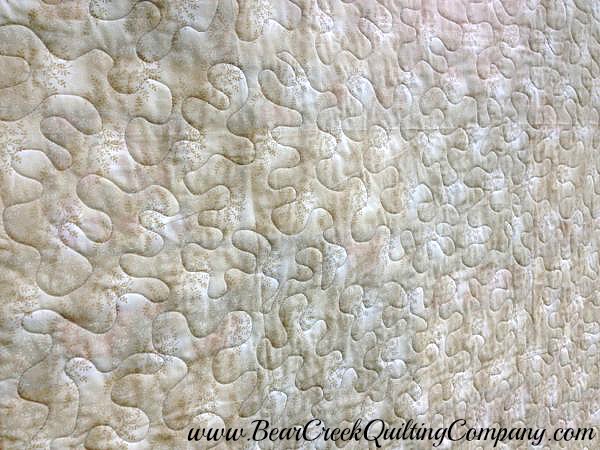 I decided to try a large stipple for my quilting design on this one. Believe it or not I have never done it quite this open before! I do love the softer feel it gives the quilt and it is still plenty of quilting to keep everything together. Going larger was actually a little harder......those big round areas got a little wonky here and there, but it got easier as I went.
I did my usual machine binding technique, sewing to the front first and then pressing really good with an iron to make sure it fully wraps around to the back. Then I topstitch on the front of the quilt and I am sure to catch it on the back.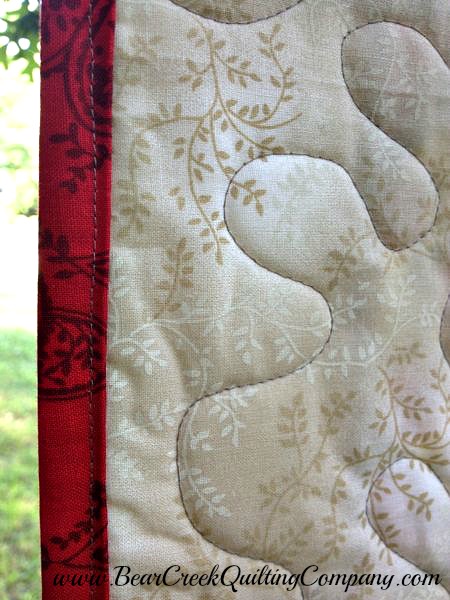 You can see here it was more than enough to grab on the backside. I used 2.5" strips for the binding.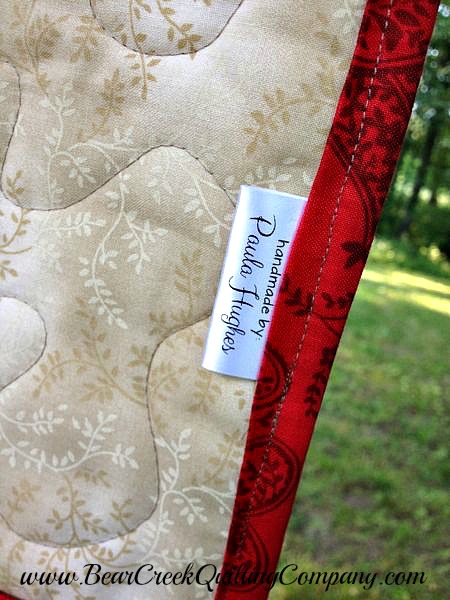 I also love using my own labels that I had created HERE. They are inexpensive, you get to design them how you like and it makes it so much easier to actually get those labels on our quilts!!!
Thanks for quilting along with me guys! And PLEASE, if anyone has a finished top or quilt -- share it! We would love to see what you have been up to! You can email your stories and pictures to web@bearcreekquiltingcompany.com

Keep it Sassy!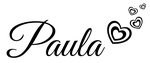 ♥♥♥♥♥
"Wristwatch" Quilt was designed and created for Bear Creek Quilting Company by Paula of The Sassy Quilter
Fabric used in this tutorial is from Home and Heart by Yuko Hasegawa for RJR Fabrics and Shadow Play by Maywood Studios.

Do you love free fabric? Do you love to teach? Want to be a contributor on our blog? Send us an email at web@bearcreekquiltingcompany.com to get started!