Posted by Shari on August 12th, 2023
Sunday Mornings Quilt Pattern Sew-Along!

Week 5: Catch Up Week & Give-Away for participating members

(Looking for related posts? Check the Sunday Mornings Sew-Along category HERE.)
Check in week. What do we have left to do from previous weeks? All caught up? Need a week to get back on track? Well, your wish is my command. Let's take a bit of inventory.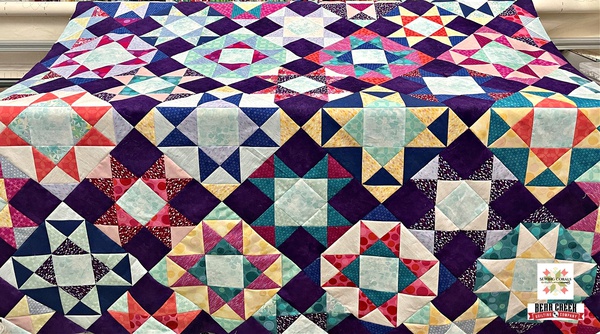 If you are caught up, congratulations. I am super proud of you for meeting your goals and getting the blocks done.

If you are behind, this week is for you to know that you are doing amazing and I see your efforts. I completely understand that life happens when we are trying to have a couple moments to quilt. I am proud of you for sticking with it. I know you can do hard things and I know that a few minutes here and a few minutes there make the biggest difference. Don't get discouraged. Just keep going.


Things to keep in mind going into next week:
Tip 1: Rows will be sewed on the diagonal. So if you are laying your quilt out and want to stack your rows, tack on the diagonal like the diagram shows you.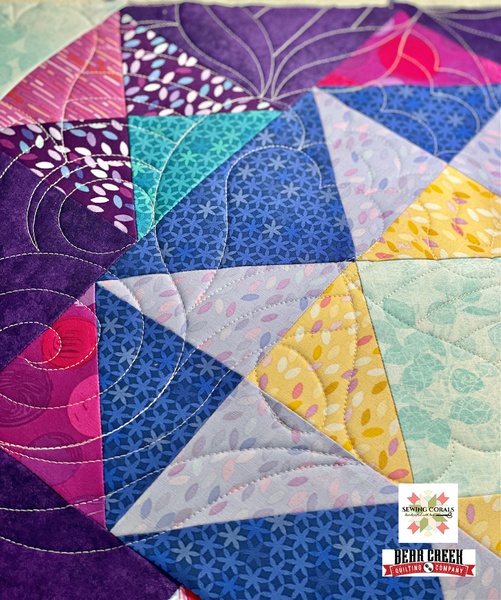 Tip 2: If you have everything ready for next week and want to prep even more, be thinking about what you would like for backing and binding. Those can be prepped this week so everything is ready for quilting after next week.


Tip 3: Next week is assembling the quilt top. If you are struggling to find time, you will have some time to work next week as well while we are doing the sew-along. Plenty of time to complete the quilt.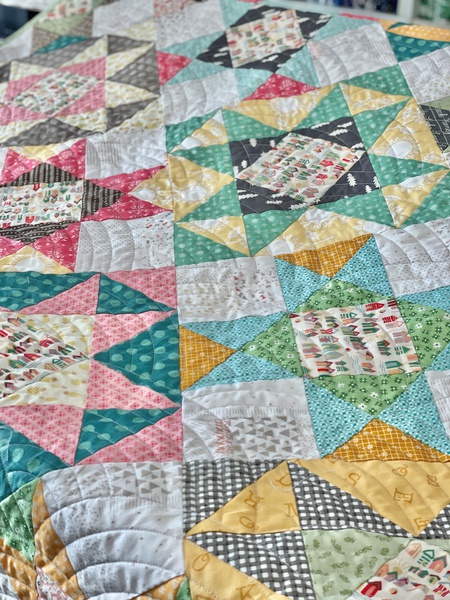 If you have pictures you would like to share, we would love to see them. I am always amazed at the colorways that people put together. Post them in our Private Facebook Group HERE.

I have made three quilts from the Sunday Mornings Quilt Pattern and each one is uniquely different and I absolutely love them all.

They aren't perfect and I have learned things along the way while making each one of them. Remember to be kind and encouraging. We are all at different levels and even an expert can make mistakes. We are our worst enemy most of the time. To have someone add to that destroys our confidence completely. But if we encourage, lift each other, and celebrate our achievements together… we are unstoppable. Keep going!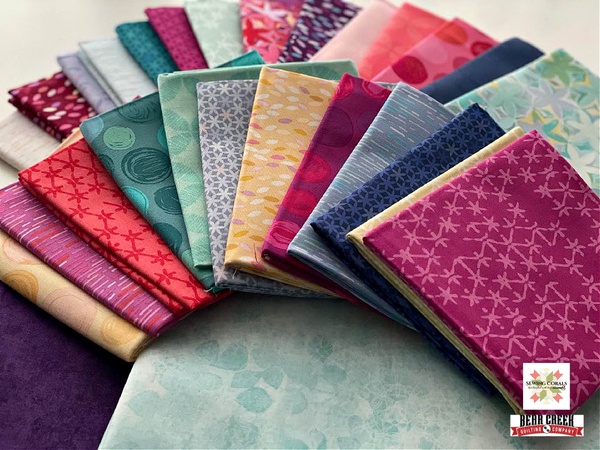 Give-Away:

For Sunday Mornings Quilt Pattern customers, we have a 26 piece Sun Showers Fat Quarter Bundle from Maywood Studio for one lucky winner!

Ever customer that purchases the

Sunday Mornings Quilt Pattern

from our online store is automatically entered.

Haven't purchased the pattern yet? This is your chance, even if you are late to the party. Get the Sunday Mornings Quilt Pattern HERE.

Winner will be announced on August 27th, 2023 and notified by email.

Want an extra entry? Tell us in the comments below what you have enjoyed about the Sunday Mornings Quilt Pattern Sew-Along.

Good Luck!
~Shari & Kenzy


8/28/2023: Winner Announced:
Congratulations to Deborah R of Kenosha WI for winning the Sun Showers Fat Quarter Bundle!
All weekly posts will appear on our blog. This is not a Zoom Class or a specific time to check in. Sew at your own pace as you follow along with the Sew-Along schedule.
Questions?? Email us at sales@BearCreekQuiltingCompany.com